The World's Cheapest Hospital Has to Get Even Cheaper
Cancer surgery for $700, a heart bypass for $2,000. Pretty good, but under India's new health-care system, it's not good enough.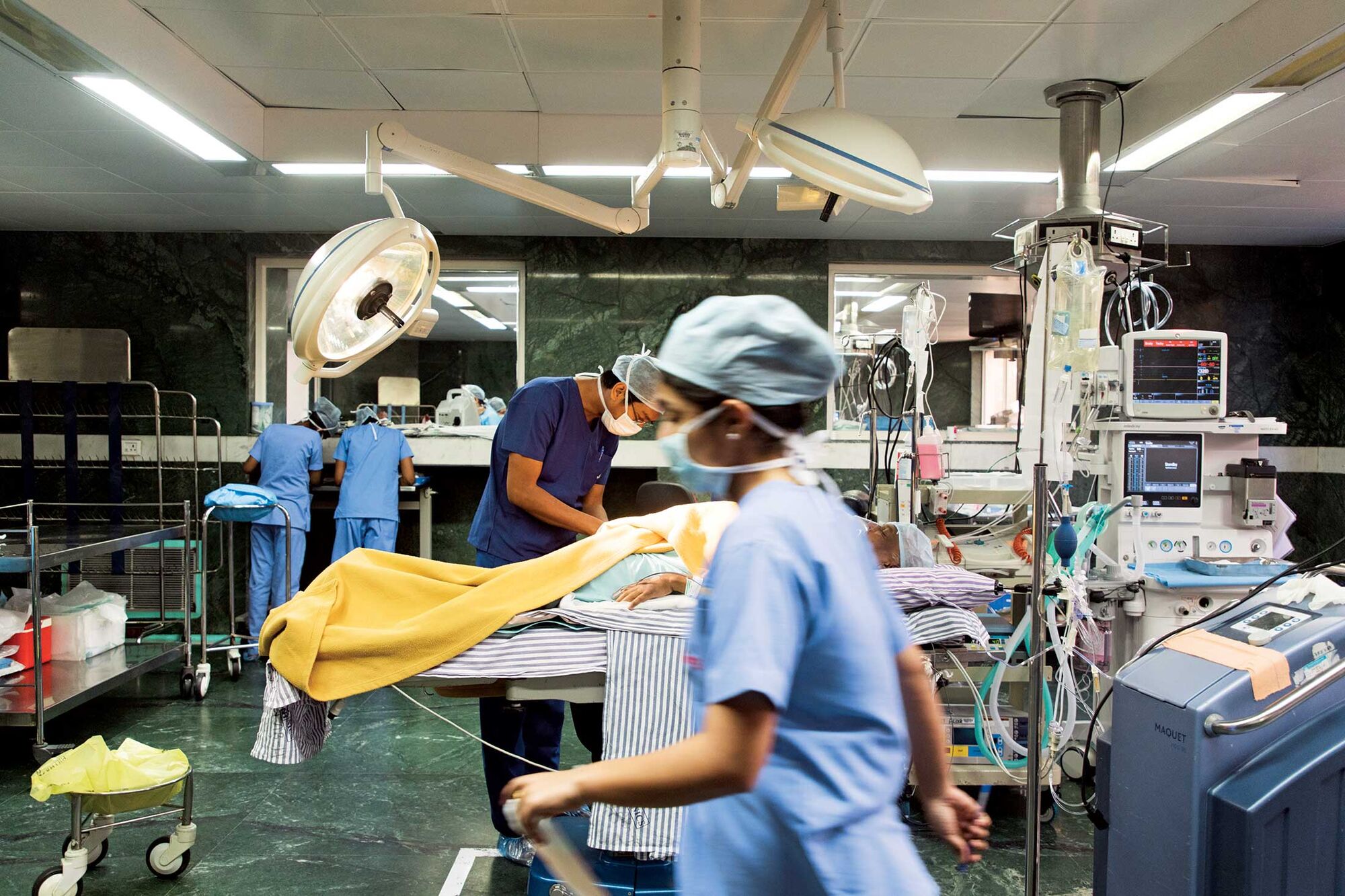 By Ari AltstedterMarch 26, 2019, 1:00 PM GMT+8
It was only after a junior surgeon opened the patient's chest, splitting his sternum with a quick buzz from a handsaw and cranking a savage-looking retractor to pin open his rib cage, that the rare and lethal disease became visible.
A normal heart has the rough dimensions of an apple, but the beige and purple mass beating between the man's ribs had inflated to the size of a cantaloupe—the result of clots in his pulmonary artery that were blocking the flow of blood to his lungs. With his own circulatory system effectively strangling him from the inside, his heart had swollen from the effort of keeping him alive. In the West, the condition would almost never be allowed to progress this far. But the patient, an outwardly healthy 31-year-old, lives in a remote city in western India, where doctors had no idea how sick he was. At such a late stage, the only way to save his life was this difficult and dangerous operation at Narayana Health City in Bangalore.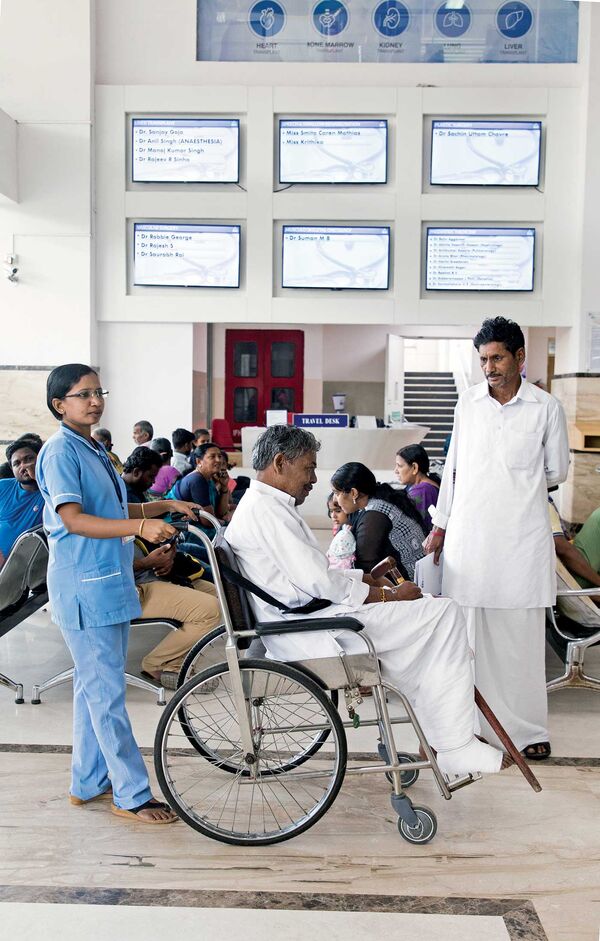 After the body was cooled to protect against brain damage while the patient's heart was stopped, a nurse dimmed the overhead lights and the junior surgeon stood back, clearing space for Dr. Devi Shetty, wearing an LED headlamp and loose dark-blue scrubs, to get to work. Shetty, 65, is tall and lean, with large brown eyes and a high, prominent nose. After collecting himself for a moment, he began digging deep into the pulmonary artery with scissors and forceps to remove the clots one by one, keeping his arms pinned tightly to his sides to reduce unwanted motion. Soft and sticky, the masses kept breaking apart as Shetty tried to secure his hold on them. But slowly the clots emerged, some congealed into floppy circles the size of a quarter, others with tiny arms where they'd branched off into capillaries, like miniature squids. Shetty had almost no margin for error. Miss one, and the whole ordeal would be for nothing; move too aggressively, and a slip could puncture a lung. It took 90 minutes to get them all.
A pulmonary thromboendarterectomy, the surgery Shetty performed, can tie up an operating room for most of a day. In the U.S., the procedure can cost more than $200,000. Shetty did it for about $10,000 and turned a profit. A cardiac surgeon by training, Shetty is the founder and chairman of Narayana Health, a chain of 23 hospitals across India that may be the cheapest full-service health-care provider in the world. To American eyes, Narayana's prices look as if they must be missing at least one zero, even as outcomes for patients meet or exceed international benchmarks. Surgery for head and neck cancers starts at $700. Endoscopy is $14; a lung transplant, $7,000. Even a heart transplant will set a patient back only about $11,000. Narayana is dirt cheap even by Indian standards, with the investment bank Jefferies estimating that it can profitably offer some major surgeries for as little as half what domestic rivals charge.
Narayana has made Shetty one of India's best-known doctors and the proprietor of a lucrative business, with about $8 million in profit in 2017. But he now faces a problem that might be even more complex than heart surgery: how to make his hospitals cheaper still. The reason is Modicare, the national health insurance program that's one of Prime Minister Narendra Modi's signature initiatives. Under way since September, it's perhaps the most ambitious public-health effort in history, intended to give basic coverage for the first time to 500 million of India's poorest. At first it seemed no one was in a better position to gain from this flood of new patients than Shetty. But his enthusiasm gave way to anxiety last year after the government published its list of reimbursement rates, which are lower even than Narayana's prices. Those rock-bottom payments mean that to thrive under Modicare, Narayana needs to find ways to cut costs further—and then keep cutting.
Shetty thinks he can do it and, in the process, create a model for ultralow-cost health care that can be applied anywhere. "We are trying to produce a pilot for the rest of the world to follow," he said over a lunch of curries and fried fish after scrubbing out from the heart operation. He was still wearing his surgical cap. "In 10 years, India will become the first country in the world to dissociate health from affluence. India will prove that the wealth of the nation has nothing to do with the quality of health care its citizens can enjoy."
It's a noble vision, and Narayana is as well-positioned as any provider to help make it a reality. But it's hard to overstate the scale of the challenge Shetty faces. For a surgery like the one he'd just performed, Modicare would provide only $1,300.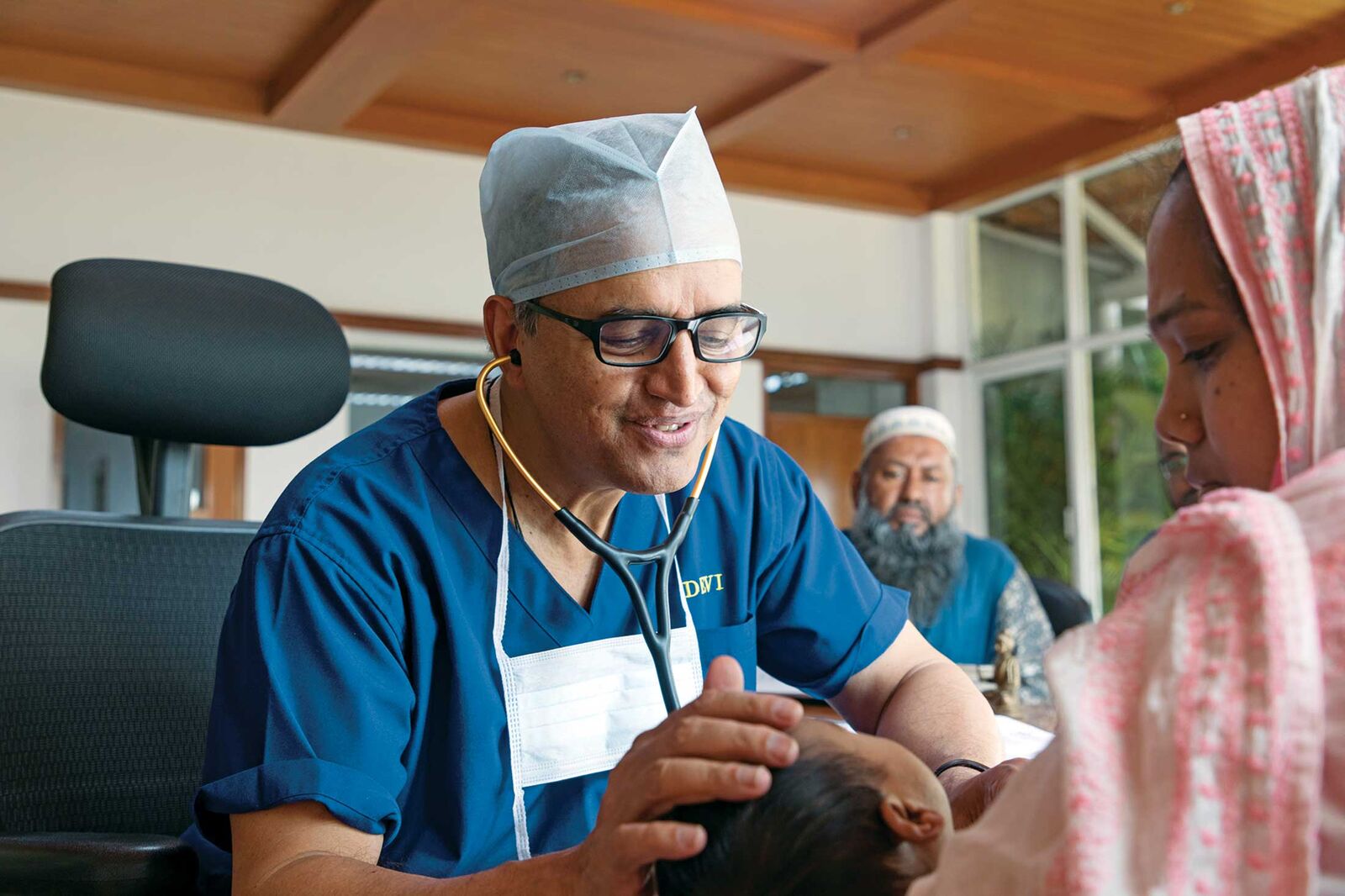 Shetty comes from a clan of prosperous restaurateurs, operators of a chain of eateries that served the coconut-heavy cuisine of Karnataka, on India's west coast. When he was a child, his parents tried not to leave him alone with anything mechanical, because he would try to take it apart and put it back together again. Apart from art class, where Shetty was allowed to work with his hands, he was an indifferent student; he had to repeat the second grade. But his attitude to school changed drastically in 1967, when a teacher informed the class that a South African doctor had just performed the world's first heart transplant. Shetty says he knew immediately that he wanted to one day do the same. "It is the pinnacle of what somebody can do with their fingers," he recalls thinking.
In his mid-20s, Shetty entered a local medical school, where he saw the toll that poverty can take on health in India. Many of the patients who came to his teaching hospital, he noticed, weren't recovering from surgery properly—sometimes resulting in a fistula, a painful abscess of the abdominal or anal region. When Shetty investigated, he learned that the cause of their complications was simple: The patients couldn't afford the protein their bodies needed to mend. So he began handing out hard-boiled eggs; soon he was known as the Egg Doctor.
Shetty went on to train at Guy's Hospital in London. At the time, he says, the cardiac team at Guy's could perform as many as six surgeries in a day—an unheard-of pace in India. Shetty wondered if it could be replicated at home. He got his chance when an industrial tycoon, G.P. Birla, recruited him to help found a heart hospital in Kolkata. There, Shetty achieved national recognition for performing India's first neonatal heart surgery, in 1992. He also met his most famous cardiac patient, Mother Teresa. When she was well enough, she sometimes accompanied Shetty on his rounds. He says he was inspired by the depth of the nun's commitment to India's least fortunate—but he was unwilling to emulate her approach, and not simply because of its material sacrifices. Although Shetty often performed free surgeries for the poorest of the poor, he reasoned that the only way to sustainably serve large numbers of people in need was to make it a business. "What Mother Teresa did was not scalable," he says—perhaps the first time venture capital jargon has been applied to the work of the Angel of Calcutta.
In the mid-1990s, Shetty began experimenting with a business school concept alternately called upskilling or task-shifting. The idea is for everyone involved in a complex process to work only at the top of his qualification, leaving simpler tasks to lower-paid workers. In a hospital, this might mean that the costliest staff—experienced surgeons—enter the operating theater only to complete the most difficult part of a procedure, leaving everything else to junior doctors or well-trained nurses. Then they move to the next theater to perform the same task again.
In 2000, Shetty secured a $20 million investment from his father-in-law, the owner of a successful construction business, to create the first Narayana hospital, which would put assembly line surgery into action. (Narayana was the benefactor's middle name.) Initially focused solely on cardiac procedures, Shetty gradually expanded Narayana's remit to include most major operations and set up regional hospitals that could feed patients with complex conditions into its two largest facilities: the Bangalore flagship and another in Kolkata. Within a decade the company had a national network and, in 2014, even opened in the Cayman Islands, in part to attract medical tourists from the U.S. Two years later, Narayana Health went public in Mumbai; it's been continuously profitable since.
"Everyone does as much as they can," Ashwinikumar Kudari, a senior gastrointestinal surgeon, says toward the end of a busy day at the Bangalore hospital. He's just removed two malignant tumors the size of golf balls from a middle-aged woman's intestines—the seventh surgery he's performed or supervised since morning. A compact man with a trim mustache and a wry smile, Kudari is soon on the move again, checking in briefly on a gallstone removal next door before dashing up a spiral staircase to another operating theater. There, he takes over from a colleague who's struggling to locate a particularly tricky fistula. "Our margins are low on one surgery, but because we do so many in a day, we can make enough," he remarks after the elusive fistula—the longest he's ever seen—is found, running from the man's anus to above his groin. By working at this pace, the average Narayana surgeon performs as many as six times more procedures annually than an American counterpart.
Shetty's philosophy of thrift is everywhere. The surgical gowns are procured from a local company for about a third of the cost of international suppliers. The tubes that carry blood to heart-and-lung machines are sterilized and reused after each surgery; in the West, they're thrown away. The machines themselves, along with devices such as CT and MRI scanners, are used well past their warranties, kept running by a team of in-house mechanics. The operating rooms, pieces of real estate so expensive that many hospitals bill for their use by the minute, are also part of the assembly line. Whereas preparing a U.S. surgical theater for the next patient can take 30 minutes or more, Narayana has gotten the process down to less than 15, in part by keeping turnaround teams with fresh instruments, drapes, and other supplies on immediate standby, ready to roll the moment a room is available. Even patients' families are part of the upskilling model. Narayana trains them to bathe patients and change bandages in the hospital, as they'll do when they get home. This allows paid staff to focus on more challenging work. Through all these methods and more, Narayana has been able to get the retail cost of a heart bypass, its most common operation, down to $2,000, about 98 percent less than the U.S. average.
It's all a far cry from the high-touch treatment Westerners expect, but Shetty is adamant that none of the practices compromise safety. Sterilizing and reusing clamps and tubing is permitted under the standards of the Joint Commission, a U.S.-based body that vets and accredits hospitals worldwide, including Narayana's cardiac hub. Involving properly instructed family members in the simplest care tasks isn't unheard of in Europe and North America, and some studies suggest it may improve patients' prospects. (Unlike busy nurses, relatives have just one person to focus on.)
The data appear to back Shetty up. In part because its huge volumes help surgeons quickly develop proficiency, the chain's mortality rates are comparable to or lower than those in the developed world, at least for some procedures. About 1.4 percent of Narayana patients die within 30 days following a heart bypass, according to the Commonwealth Fund, which studies public health, compared with 1.9 percent in the U.S. Narayana also outperforms Western systems in results for valve replacements and heart-attack treatment, the group found.
Yet even for bypasses—Narayana's bread-and-butter procedure, with greater economies of scale than any other—Shetty needs to cut costs further, because Modicare will reimburse only about $1,300 for each surgery. For other treatments, the difference between current price tags and Modicare payment schedules is much wider. "They are paying less than what it costs," Shetty says. "Unless you have someone paying more than what it costs, you may be able to survive for five years, but what about when the machines get old and need to be replaced?" Even at Narayana, thrift goes only so far.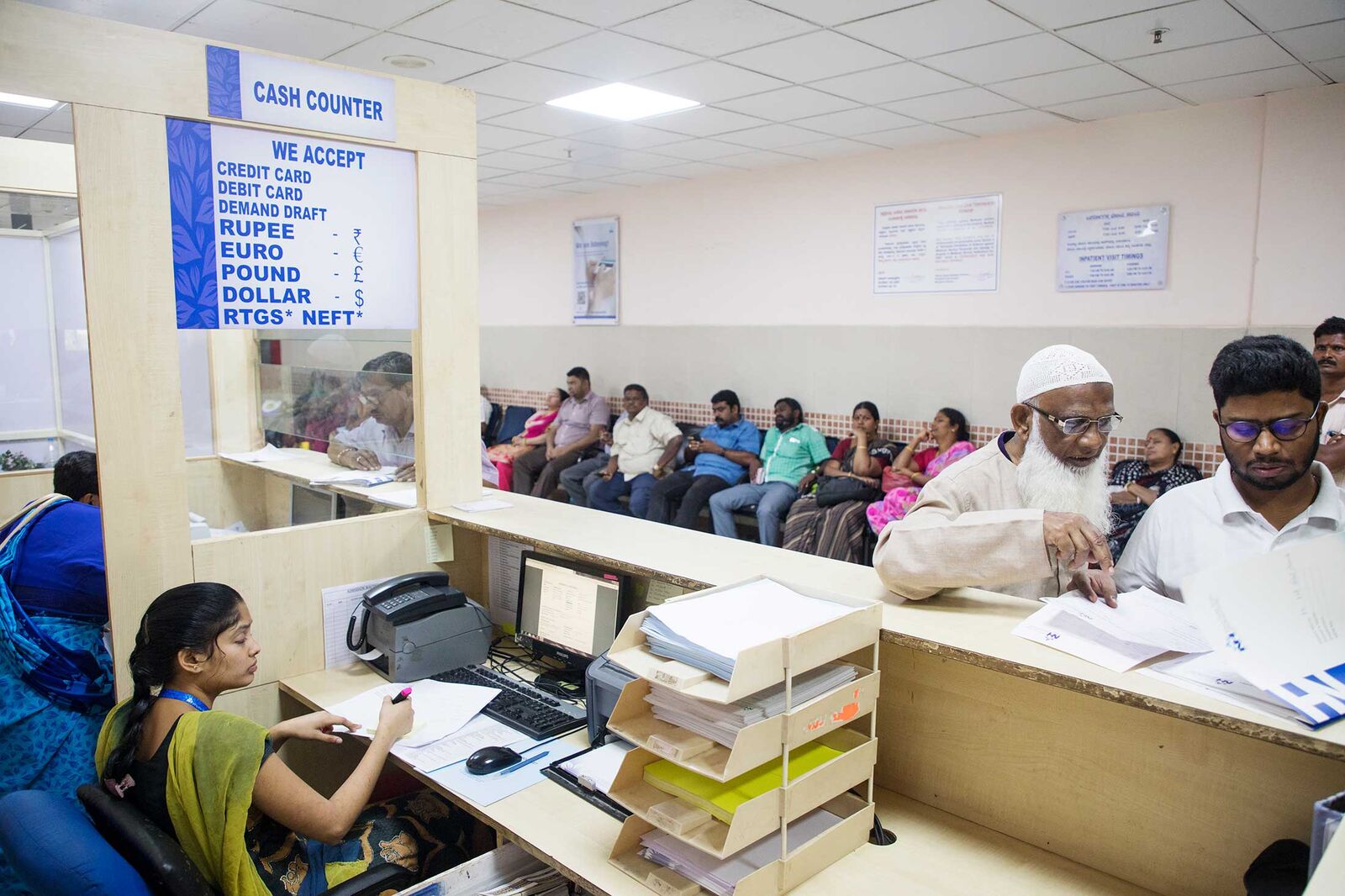 Per capita, central-government spending on health care in India is lower than in any other major economy. Until recently only a quarter of the population had any insurance, forcing hundreds of millions to pay out of pocket or go without treatment. The Prime Minister's People's Healthcare Plan, as Modicare's official name translates from Hindi, provides about 500,000 rupees ($7,000) in annual hospital coverage to 107 million families, their eligibility determined by the primary breadwinner's occupation. That works out to roughly a half-billion individuals—among them ragpickers, rickshaw pullers, street vendors, and the vast rural army of landless casual laborers—now getting insurance for the first time.
Critics have urged Modi to put the money into India's shaky system of free public hospitals, but he argues that the country is better off relying on what's already in many respects a world-class private health-care industry and that the government can't afford to build enough facilities itself. Modi is trying to contain one of Asia's widest budget deficits, and he's allocated the equivalent of only $900 million for Modicare in the coming fiscal year. (Costs are generally split 60-40 between Delhi and the states.) Private hospitals aren't obliged to accept Modicare, and several hospital groups and physicians' associations are boycotting the program, criticizing its low rates. Thousands of providers have nonetheless opted to participate, both to gain access to new patients and to avoid antagonizing the prime minister. And even if Modi loses in the national elections taking place in May, most observers expect the program will continue.
To run the initiative, Modi hired Indu Bhushan, 58, a former bureaucrat who'd taken the unheard-of step, in India's cosseted civil service, of leaving his guaranteed lifelong job for an external gig—in his case, as a portfolio manager for the Asian Development Bank. In a country that often struggles to deliver on ambitious policy, Bhushan's message is simple: Modicare is here, and private operators need to get on board. "We have to have expanded capacity, and much of this capacity has to come through the private sector," he says, sounding at once wishful and mildly threatening. "The private sector also wants to be part of something that is so high-profile politically. … They would like to be seen to be contributing to this, which is something close to the heart of the chief executive of the country."
During his meetings with hospital administrators, Bhushan urges them to look on the bright side. Modicare's rates may be low, but it promises reimbursement within 15 days, faster even than some private plans. In his telling, Modicare patients will be a ready-made customer base for entrepreneurs with ideas for delivering low-margin, high-volume health care, while providing existing hospitals with a sort of financial backstop—minimally profitable but reliable generators of revenue who pay their bills on time. And because those patients will be concentrated in poorer cities and rural areas, Bhushan's hope is that they'll drive the construction of new facilities in underserved regions.
He also tacitly acknowledges that the current price list is something of an opening bid, subject to adjustment if hospitals are cooperative. "That's how businesspeople work, right? If you offer them some price, they'll say, 'Can we make a deal?' " he says coyly. To create incentives for quality, bonuses may be available, too. With state approval, hospitals accredited by India's version of the Joint Commission can charge the government an extra 15 percent; teaching facilities are eligible for an additional 10 percent.
"I would like in my lifetime for every citizen of this planet to get health care at a price they can afford to pay without having to beg or sell something"
In contrast to the ultra-itemized billing familiar to Americans, Modicare pays flat fees for every procedure, including the entire hospital stay required to get it done. (Narayana operates the same way.) The longer a patient occupies a bed, the greater the hit to the hospital. So it's in the interest of Narayana, and anyone who wants to make money off Modicare, to get ancillary costs as low as possible without jeopardizing outcomes.
The team Shetty has charged with doing so works a half-hour's drive from the Bangalore hospital, in a neighborhood that illustrates some of the tensions created by the city's emergence as India's answer to Silicon Valley. Across the road there's a gleaming juice bar; about 300 feet away, a garbage fire burns at a deserted construction site. The street is home to two startups, and inside a tiny white office building that Narayana leases is a third, of sorts.
There, about 70 programmers and product specialists set up their laptops every day wherever they can find a spot, WeWork-style. They're building Atma, a platform intended to handle the back end of everything that happens at Narayana hospitals: admissions, payments, scheduling, pharmacy dispensations. Every time a piece of equipment is used—something as trivial as a syringe or as complex as an MRI machine—the system will record it, along with data on outcomes and complications. Narayana will then begin endlessly combing through the numbers, looking for unnecessary costs and devising ways to stamp them out.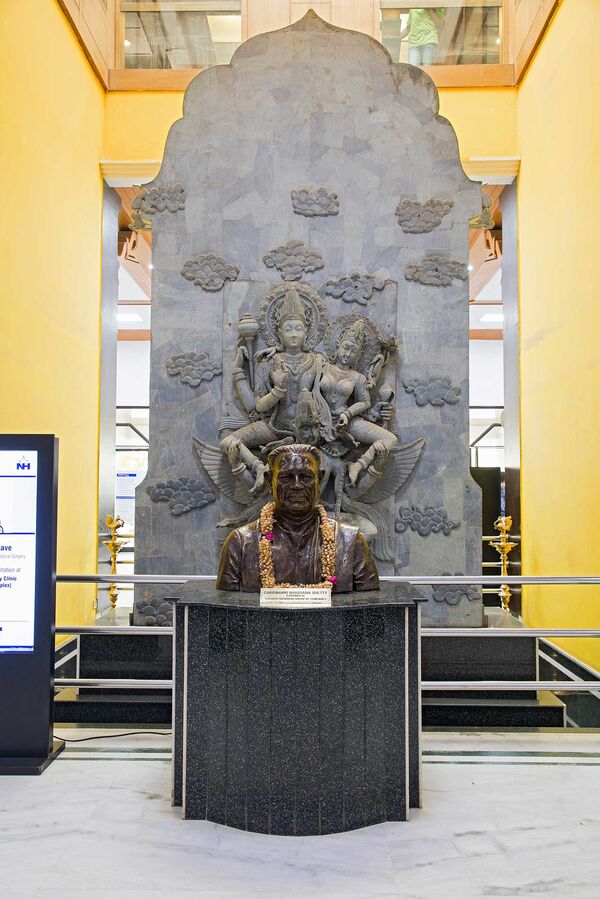 The executive leading Atma, which means "soul" in Sanskrit, is Shetty's son Viren, a 34-year-old Stanford MBA who's clearly in charge. As he passes subordinates' offices at Narayana headquarters, they sometimes pop to their doors to say, "Hello, sir." He argues that more sophisticated use of data can dramatically alter Narayana's cost base. Viren gives the example of a Narayana heart surgeon who tended to install more pacemakers than his colleagues—so many, in fact, that he accounted for 80 percent of pacemakers used in his entire unit. When the doctor's superiors inquired about the habit, he said his patients' conditions were more complex than those that others handled. But a look back at the numbers showed this wasn't true, so Narayana fired him. "The whole push for us," Viren says, is "to highlight the flaws in our coverage, [and to] find out where these little spikes of cost are." The Shettys see further savings coming not from any single reform, but from thousands of little tweaks at every stage of treatment.
The other main component of Narayana's plan to overhaul itself for Modicare is more conventional: getting some people to pay more. At the top of a private elevator in the Bangalore hospital is the Platinum Wing, which opened in 2015. Although its customers receive the same treatment from the same doctors as regular patients, they recuperate in style. Rooms have hardwood floors and rainfall showers, and soft flute melodies are piped into the hallways. In addition to South Asian staples, the canteen serves locally exotic dishes such as tuna salad and chicken stroganoff.
Platinum Wing patients pay an extra 8,500 rupees a day in addition to the cost of a basic single room. It's money Shetty is counting on to subsidize the rest of Narayana, and he's planning to expand the concept to more of the company's hospitals. Even in India's poorest cities, he estimates that 10 percent to 20 percent of the population might be willing to pay for such comforts.
Modicare is still in its infancy—as of March just 1.5 million people had used it—and Narayana is only partway through preparing for full implementation. Making the changes required to prosper under its constraints will be the work of years, a constant battle to shave off a few rupees here and there. But if Narayana succeeds, it may become a model not only for competitors in India but also for Western health-care operators, which are trying desperately to contain costs. Nowhere is this more true than the world's most expensive health-care market, the U.S. "There's going to be a lot of interest in how India is pulling this off," says Ashish Jha, the director of Harvard's Global Health Institute. "You're going to see health-care organizations in America and elsewhere really rethinking their business model and how they do things."
That's a notion the elder Shetty enthusiastically endorses. "I would like in my lifetime for every citizen of this planet to get health care at a price they can afford to pay without having to beg or sell something," he says.
First, though, Modicare will have to reach people such as Jayama, who like many South Indians uses only one name. A 50-year-old woman who earns 6,000 rupees a month hauling bricks, she's one of a few dozen patients hoping to see a doctor at a free clinic Narayana offers in her village in a scrubby region of Karnataka. Her neck is badly swollen, an obvious sign of hyperthyroidism. She rummages through a plastic bag for her medical records, which a nurse scans for review by a doctor in Bangalore. His face soon flashes up on a large computer monitor; after asking Jayama a few questions, he recommends she go to a hospital to see a specialist.
Jayama is befuddled by the advice. The last time she sought treatment she needed a 10,000-rupee loan. Two years later, she still hasn't managed to pay it back. When asked about using Modicare, Jayama says she's never heard of it or, for that matter, of Narendra Modi himself; she's illiterate. After the basics of how a visit to a thyroid specialist could be covered are explained to her, she pauses for a few moments, then responds with an expression in the local language, Kannada: "Aadare olleyadu." Roughly, it translates as "If it happens, it's good."
Source :
https://www.bloomberg.com/news/features/2019-03-26/the-world-s-cheapest-hospital-has-to-get-even-cheaper