Can festive overeating trigger a heart attack?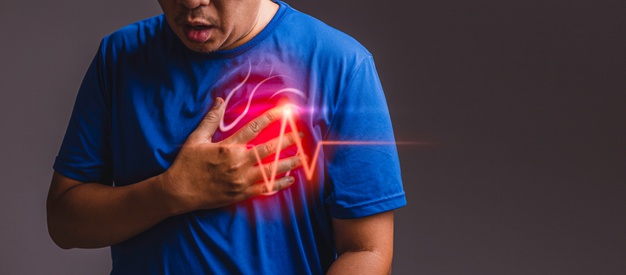 KUALA LUMPUR (May 18): In Malaysia, festivals equate with indulging in elaborate meals and all kinds of delicacies all day long.
Hari Raya Aidilfitri celebrations are no different for this is when delicious traditional Malay fare such as rendang, lemang and ketupat are dished out copiously.
Unfortunately, overindulgence of Hari Raya delicacies has often been "stigmatised" as a cause of coronary heart attack or sudden cardiac arrest. Is this information true or otherwise?
Consultant cardiologist (electrophysiology) at Hospital Serdang Dr Abdul Raqib Abd Ghani debunked this stigma as "fundamentally untrue" because a heart attack or sudden cardiac arrest can occur anytime and anywhere.
However, as he pointed out, an uncontrolled diet and eating too much fast food high in salt and fat, as well overeating during celebrations, can cause the blood glucose and blood pressure levels to spike, which can lead to a heart attack in people who suffer from chronic heart disease.
Heart attack and sudden cardiac arrest are two distinct heart conditions, with the former occurring when a blocked artery prevents oxygen-rich blood from reaching a section of the heart. The latter occurs suddenly and is triggered by an electrical malfunction in the heart that causes an irregular heartbeat (arrhythmia).
DATA
Dr Abdul Raqib said even though heart disease is common in Malaysia, a lack of awareness and understanding of the condition is cited as one of the reasons for the growing statistics in the country.
"The most important thing is to identify the level of our health on a regular basis. We should also advise our parents, siblings and relatives to carry out health screenings if they have not yet done so and observe a healthy lifestyle. In the case of our elderly parents, we must ensure that they are taking their medications regularly in accordance with the prescriptions given by the treating doctors," he said.
He also said that currently there are no official numbers on the prevalence of sudden cardiac arrest in Malaysia as it is difficult to ascertain whether patients die from a heart rhythm disturbance or a complication of their pre-existing heart disease, especially in the outpatient setting.
According to data from the Department of Statistics Malaysia, 15 percent of the 109,164 medically certified deaths that occurred in 2019 were caused by ischaemic heart diseases, which remained the principal cause of death.
Heart failure, another important risk factor for sudden cardiac death, is also an important cause of hospitalisation accounting for about six to 10 percent of all acute medical admissions and an important cause of hospital readmissions in Malaysia.

Dr Abdul Raqib.
HWD TO THE RESCUE
Dr Abdul Raqib, meanwhile, also revealed that Hospital Serdang's cardiac centre is the only one in Malaysia, and also outside of the United States, to utilise the hospital wearable defibrillator (HWD) as a means to bridge the gap for patients who are at risk of sudden cardiac death in the hospital setting.
(A defibrillator is a device that restores a normal heartbeat by sending an electric pulse or shock; it can also restore the heart's beating if the heart suddenly stops.)
The HWD is the world's first and only wearable defibrillator for continuous protection of in-hospital patients who are at risk of sudden cardiac arrest. It is an external device worn temporarily to deliver emergency shocks when needed in patients who are at an increased risk of sudden cardiac arrest.
On the other hand, the implantable cardioverter defibrillator (ICD) is a permanent defibrillator system that is implanted percutaneously, or without the need for open-heart surgery, to deliver shocks when necessary in patients who have an irreversible increased risk of sudden cardiac arrest.
In Malaysia, ICD is a standard treatment in patients at an increased risk of sudden cardiac arrest after assessment by a cardiologist or cardiac electrophysiologist.
According to Dr Abdul Raqib, HWD is only complementary to ICD in the hospital inpatient setting when it is used to bridge shock therapies in an infected ICD system where the infected device needs to be removed and a temporary shocking device needs to be in place to mitigate the risk of sudden cardiac arrest caused by fatal rhythm problems.
SAFETY NET
Explaining the advantages of the HWD in the Malaysian context, he said it is suitable for high-risk patients who are being bridged to a more definitive device such as ICD, adding that they (the patients) can be transferred out from the critical cardiac care unit without compromising their care in any way.
"The HWD provides a much-needed safety net in patients who may require electrical cardioversion therapy in the event of a fatal heart rhythm when they are being nursed in a non-critical unit.
"Timely intervention or shock therapy is essential in patients who sustain a cardiac arrest as every minute wasted increases the risk of death by a further 10 percent," he said.
According to Dr Abdul Raqib, the HWD will come in handy in Malaysian public hospitals where it takes time to procure implantable defibrillator devices and where critical care units are being stretched due to the resurgence in COVID-19 cases.
"The care of these high-risk (heart) patients will possibly be further compromised when they are transferred to less critical beds. HWD fills this gap nicely and would be very useful in other large-volume centres facing the same issues," he said.
The HWD is suitable for patients who are at an increased risk of sudden cardiac death for reasons such as severe heart failure and awaiting heart transplant or have recently undergone bypass surgery or coronary angioplasty.
The wearable device is also suitable for patients with potentially reversible indications such as acute heart failure caused by inflammation or infection, or those who have had their permanent defibrillator devices removed for reasons such as device infection.
EDUCATING PUBLIC ONLINE
Meanwhile, National Heart Association of Malaysia (NHAM) president Professor Datuk Dr Wan Azman Wan Ahmad said the association and AstraZeneca Malaysia have teamed up to launch a new website called Spotlight on Heart Failure to shed light on this critical illness and provide crucial information on matters such as detecting its signs and symptoms, identifying one's risk and managing heart health.
"The website (launched on April 28, 2021) aspires to empower Malaysians to take better care of their heart health so that we can collectively improve the state of our nation's physical and economic health," he said.
Designed with the needs of at-risk and diagnosed patients in mind, the website www.spotlightonheartfailure.my offers easy-to-understand information about the condition and useful tools to help them manage their condition better. These tools include the Symptoms Recognition Quiz, Symptoms Checker and Risk Checker – all available in downloadable PDFs that the patients can bring with them at the next appointment with their doctor.
Dr Wan Azman, who is a senior consultant cardiologist at University Malaya Medical Centre, also said that the Malaysian Heart Failure (MyHF) registry, which is expected to be published by NHAM later this year, also found that hospitalisation rates were high for cases involving readmission for heart failure.
"There are many reasons for this. Unhealthy eating habits, sedentary lifestyle, family history of heart complications, coupled with low awareness or empowerment to take charge of one's own health, all contribute to the steady growth of such health problems over the years.
"Even though food is not really a major contributor to your blood cholesterol level, it is still best to avoid red meat and foods that contain saturated fat and trans fat. While it is normal to indulge once in a while especially during the festive season, moderation is still a crucial key," he added.
Source : https://www.edgeprop.my/content/1847818/can-festive-overeating-trigger-heart-attack